Original article
Open Access
Anticommunism in Korea and Germany in times of cold War
Asian Journal of German and European Studies
2017
2:4
Received: 20 May 2016
Accepted: 20 January 2017
Published: 4 March 2017
Abstract
Besides several themes related to burning issues on the surface of the current discourses in South Korea, this special issue of the AJGES pays attention to the fundamental problems, which are essential to understand the unique character of South Korean society as a divided nation. The in-depth analysis of some fundamental mechanisms is indispensable to develop a long-term strategy dealing with the roots of various problems. A comparison with the history of Germany as a formerly divided country is deemed helpful in order to see the problems from different perspectives and broaden the horizon. The contributions of this Thematic Series were first published in Korean by Dolgebae, Paju in 2015.
Neben vielen anderen brennenden Problemen an der Oberfläche derzeitiger Debatten in Südkorea, widmet sich der Schwerpunkt dieser Ausgabe der AJGES einem
grundlegenden Problem, i.e. der einzigartige Charakter der südkoreanischen Gesellschaft als einer geteilten Nation. Die Tiefenanalyse einiger der Mechanismen ist Voraussetzung, um eine langfristige Strategie zur Überwindung der Ursachen der verschiedenen Probleme zu entwickeln. Dabei ist der Vergleich mit einer früher geteilten Nation wie Deutschland zweifelsohne hilfreich, um die Probleme aus einer anderen Perspektive zu sehen und den Horizont zu erweitern. Die Beiträge in dieser thematischen Sektion wurden zuerst auf koreanisch vom Verlag Dolgebae 2015 veröffentlicht.
Keywords
AnticommunismCold WarSouth KoreaGermanyUSACommunismFascism
"A spectre is haunting Europe – the spectre of communism.

All the powers of old Europe have entered into a holy alliance to exorcise this spectre:

Pope and Tsar, Metternich and Guizot, French Radicals and German police-spies." (Karl Marx, and Friedrich Engels, The Communist Manifesto, 1848)1

"… also the theory becomes a material force, if it seizes the masses."

(Karl Marx)
Background
One of the main hypotheses to understand and explain anti-communism in modern history is first to understand and explain why and how modern communism appeared, i.e.:
1.

Without dialectics we do not understand anything.

2.

Deep cultural and social structures are fundamental for the specificities of societies and their contradictions, i.e. without history we do not understand anything.

3.

Capitalism produced economic, political, social, and cultural cleavages, which led to new political and social organisations, which organised uprisings, revolutions and other forms of resistance. I.e. without economics we do not understand anything.

4.

Colonisation and imperialism have spread capitalist relations of production globally.

5.

Nearly all, early communist experiments in the 19th and 20th century failed.

6.

Deep social and cultural structures explain the specificities of communism and anti-communism in the world. There are nearly as many varieties of communism and anti-communism as countries.

7.

Anti-communism is as old as communism.

8.

In many countries the conflict between communists and anti-communists led to terrible civil wars.

9.

The history of communism and anti-communism is full of contradictions and paradoxes.

10.

There exists anti-communism even without communists.

11.

The Soviet revolution from 1917 and the Soviet Union have casted the modern understanding of communism by creating the dogmatic Marxism-Leninism.2

12.

The founding of the Soviet Union has changed world history, although it was really existing socialism and not communism.

13.

The USA as hegemonic world power was and is the leader in anti-communism.

14.

Japanese imperialism has as a counter-reaction promoted communism in East Asia.

15.

West Germany and South Korea had developed specific forms of anti-communism due to their situation at the frontline between the two major powers.

16.

The Korean War was the only international 'hot' war between communists and anti-communists since 1945.

17.

Third World communism and anti-communism after the Second World War were in the centre of systems' competition between East and West, resulting in their division.

18.

Although there are great varieties of capitalism, today's dominant form is the one of neoliberalism.

19.

Anti-communism – like communism – is seeking political and cultural hegemony by all means.

20.

The judicial system is utilized in both regimes (communist and anti-communist) to promote their interests.

21.

The struggle between so-called communists and anti-communists gives limited academic freedom on both sides.

22.

Most communist regimes and parties have disappeared since 1990.

23.

Some socialist countries (e.g. China, North Korea, Cuba) survived the end of the Cold War (Saxonberg 2012).

24.

Communism has changed into nationalism, actually there were already such elements from the very beginning.

25.

Anti-communism is today largely replaced by anti-terrorism and anti-Islamism.

26.

The recent interest in the study of anti-communism – more than twenty years after end of the Cold War in Europe – show the relevance of the topic also for future generations, especially for South Korea, where there is no peace and reunification yet.

27.

China with its Maoism as source of communism and target of anti-communism needs special consideration.

28.

The future of humanity will be decided in China (Széll 2010a).
On the theory of anti-communisms
Certainly it will be necessary to differentiate between various forms of radical social movements: i.e. communists, socialists, anarchists, which are again spread in many political parties, tendencies and sects. These are in general amalgamated by anti-communist policies and ideologies, which also produce diverse forms of anti-communism, anti-socialism, anti-Bolshevism (Generalsekretariat zum Studium des Bolschewismus
1975
; Jakowlew
2004
; Rebatet
1940
) and anti-anarchism: reactionary, fascist, liberal, conservative. Nevertheless there are some basic principles also in the global context and in the long run (Braudel
1986
), which justify the notion of 'anti-communism' as a heuristic approach. Nevertheless historic and cultural specificities, which sometimes go back thousands of years (Gurvitch
1962
), have to be respected. For the context the following Fig.
1
may be helpful: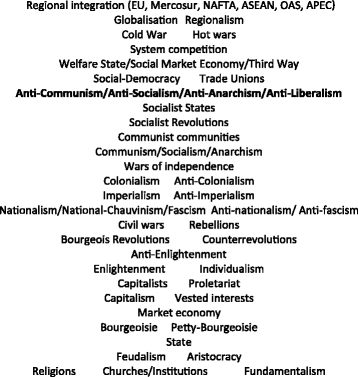 Communism
Before entering into a debate about anti-communism it seems to be necessary to define communism.
3
Apparently this is an immense task, which cannot be done extensively (e.g. Tosel, André
2010
). Why not just take the definition by the Collins English Dictionary (
2013
)?
1.

"Advocacy of a classless society in which private ownership has been abolished and the means of production and subsistence belong to the community,

2.

any social, economic, or political movement or doctrine aimed at achieving such a society,

3.

usually a political movement based upon the writings of Marx that considers history in terms of class conflict and revolutionary struggle, resulting eventually in the victory of the proletariat and the establishment of a socialist order based on public ownership of the means of production. See also Marxism, Marxism-Leninism, socialism,

4.

usually a social order or system of government established by a ruling Communist Party, esp. in the former Soviet Union,

5.

often (mainly US) any leftist political activity or thought, esp. when considered to be subversive,

6.

communal living; communalism."
As another easily acceptable and probably nowadays most widespread reference we may take Wikipedia (
2013a
). It distinguishes sixteen forms of Marxist communism and two non-Marxist ones (Table
1
):
Table 1
Marxist and non-Marxist communism
Marxist communism

 Marxism

 Leninism and Marxism-Leninism

 Leninism

 Stalinism

 Trotskyism

 Maoism

 Prachanda Path

 Hoxhaism

 Titoism

 Juche (Kim 1984)

 Eurocommunism

 Council communism

 Left communism

 Situationism

 Autonomism

Non-Marxist communism

 Anarchist communism

Christian communism
We can keep for our purpose some central elements:
1.

Marxism is based on the methodology of Historic Materialism/HistoMat.

2.

Although with a lot of revolutionary rhetoric, fundamentally communism has an evolutionary understanding of history: "In the womb of the old society the new society emerges." (Marx 1875)

3.

Communism is based on social ownership (cooperatives, collectivism).

4.

It has an anarchistic understanding of the 'withering away of the state'.

5.

Communism did not militarily expand by itself.

6.

'World revolution' means parallel uprisings in different societies by its own contradictions – not a strategic overturn by a central agency or committee with its seat in Moscow. Nowadays this is completely out of time.
Really existing communism occurred in local, utopian communities (USA, Brazil, New Lanark, Great Britain) and in the Kibbutzim since the 19th century.
Methods
It may be surprising to find a lot of critical publications, conferences, media productions on the topic of anti-communism in the last couple of years (cf. e.g. The International Newsletter of Communist Studies; Wikipedia 2013b, c). There is a new generation of scholars, who practice some critical distance to Cold War attitudes (Greiner et al. 2006–2013). Many archives are fortunately opened, which allows to shed a new light on history. As the Cold War is the climax of anti-communism, it is worthwhile to pay specific attention to this period:
"The description of the history of the Cold War has entered since some time a new phase. An epoch designation of different length and importance – especially in German history often phases of a longer lasting East–west-conflict have been characterized – has become a fixed size, a defined historical unit, i.e. encompasses the period from 1945/47 until 1989/91 and presenting itself disciplinarily an own subfield of contemporary history. Cold War Studies have established themselves in the whole Anglo-Saxon world and beyond as research context. (Müller 2013; translation by Gy. Sz.)"
Gesine Schwan (
1999
) sees four forms of anti-communism for Germany:
1.

Anti-communism of the social-democratic left,

2.

3.

anti-communism in the further bourgeois spectre of the bourgeoisie,

4.

'anti-democratic' anti-communism (National Socialism).
According to Kim Dong-Choon the bearers of anti-communism in South Korea are:
1.

U.S trained intellectuals: anti-communism as liberalism,

2.

Land lord class: anti-communism as class interests,

3.

Christians and North Korean migrants: anti-communism as religion,

4.

Pro-Japanese bureaucrats, police and Military: anti-communism for self-defensive logic or power politics,

5.

Ordinary People: nti-communism for survival,

6.

Traumatized people: anti-communism as social ill.
For the study of anti-communism we may differentiate four main schools:
And it may be worthwhile to study Commonsense anticommunism, as Jennifer Luff calls it (2012). The leader of the Communist Platform and leader of the opposition party in the Bundestag Die Linke, Sahra Wagenknecht, proposes a differentiation between hard and soft anti-communism (1994).
Fascism
Fascism is the strongest anti-communist movement so far (Martens 1993; Nolte 1963, 1989; Nolte and Furet 1998).10 The notion Fascism was invented by Benito Mussolini in 1922. It builds on racism, xenophobia and especially anti-Semitism. It is a contradictory movement promising on the one hand 'eternity' (1,000 Year Reich) and on the other 'revolution'. With the Holocaust and the extermination of six million Jews, but also hundreds of thousands of gypsies and political enemies it was one of the most cruel and terrible political regimes in human history.
The Black Friday in 1929, where the New York Stock Exchange imploded, led to a world-wide financial and economic crisis with millions of unemployed in all capitalist countries. This misery strengthened fascist movements all over the world (cf. Table
2
), offering an alternative to communism, therefore largely supported by the petty bourgeoisie (Franke
1988
), but also by big capital (Polanyi
1957
). A central element is the passive participation by the masses (Gorz
1987
). Hate and distrust against everybody were the base of the system. By the way, the notion 'Fifth column' stems from General Franco during the Spanish civil war (Gross
1980
: XV) (Table
3
).
Axis powers
  • Italy first (1922–1943), where from the notion 'fascism' derives.
  • Germany (1933–1945 – including annexed Austria and occupied countries with their collaborators (cf. special chapters)
  • Japan (1936–1945)
Others
  • Brazil (1937–1945)
  • China, Republic of (1932–1938; 1941–1996)
  • Croatia (1941–1945)
  • Finland (1929–1932)
  • France (1940–1944)
  • Greece (1936–1941)
  • Hungary (1932–1945)
  • Norway (1943–1945)
  • Portugal (1932–1974)
  • Poland (1930s)
  • Romania (1940–1944)
  • Slovakia (1939–1944)
  • Spain (1936–1975)
Anti-Communism is still strongest there, where there used to be fascist, reactionary authoritarian regimes/dictatorships, e.g. South Korea. At the same time anti-communism is paradoxically strongest there, where there are few or even no communists (similar to xenophobia).
The Second World War ended most fascist regimes by military defeat, co-ordinated by the then four Allies during the Teheran, Yalta, and Potsdam Conferences. Nevertheless some fascist regimes survived (Spain, Portugal).
Fascism is, however, not yet dead, as neo-fascist movements and parties exist and become even stronger with the worldwide financial and economic crisis since 2007 – so in Germany, but also in Italy, Hungary, Belgium, the Netherlands, Norway and nearly all other European countries as well (Table
4
).
Table 4
Essentials of conservative/fascist anti-communism
• Religion
• Nationalism/national-chauvinism
• Capitalism
• Free-market economy
• Vested interests
• Paranoia
• Heresy
• Xenophobia
• Racism
• Anti-international
• Distrust
• Anti-Enlightenment
• Anti-intellectual
• Anti-union
• Anti-workers
• Anti-peace
• Anti-social rights
• Anti-human rights
• Militarism
• Superiority-complex "God's own country!"
• Hate
• Family
• Anti-homosexuality
• Anti-abortion
Anti-fascism
Where there is fascism there is in the sense of dialectics also anti-fascism. As with anti-communism there are also different forms of anti-fascism, just to name the main:
1.

2.

3.

4.

5.

Traditional conservatism (wertkonservativ), and

6.
As in the case of anti-communism it is an issue of consciousness, i.e. to regard fascism as a problem or a danger for one's own value system and life.
The role of academia and intellectuals
The fundamental principle of science and culture in the modern world is Enlightenment. However, not all members of academia and intellectuals feel committed to it. The temptations of power and money are often too big for many not to resist or just being opportunistic. The German-Hungarian sociologist Karl Mannheim characterized intellectuals as free-floating (1936).
Until the age of Enlightenment religion dominated the value system. But the split between different religions and with it Weltanschauungen was certainly at the beginning of Enlightenment. Nevertheless Enlightenment has not yet become the dominant cultural phenomenon globally. On the contrary, fundamentalism is driving back this principle (Postman 1999; Széll 2001).
Science is neither neutral nor objective. In so far the struggle for cultural hegemony (Femia 1982; Gramsci 2000) is part of the overall political struggle. Historians describe the Dreyfus-affair in 1905 as the beginning of the modern intellectual, who was then at the left. But academia in general was part of the establishment, namely priests, doctors, lawyers and teachers. Actually, until the 1960s the majority of academics was employed in the public sector and had there to follow its strict rules.
When the Cold War broke out with its propaganda, psychological warfare, disinformation, and counterpropaganda many academics played – on both sides – a very prominent role, as we can see namely under McCarthyism. Ellen W. Schrecker describes this as 'Cold Civil War' (1986: 129). And Stefan Creuzberger designates it as 'Cold War Culture' (Creuzberger 2009: 38). The leading US-American sociologist, Talcott Parsons, contributed also by his theory to anti-communism. The refusal of class theory was also part of the intellectual struggle against communism and Marxian thinking and methods.
A historic compromise was reached in the 1960s, when pluralism was propagated, i.e. that different schools are allowed, even demanded in teaching, in the public, in the media. It is regarded together with the plurality of the party system as a basic element of democracy. But this pluralism can be misused, when a tiny minority (backed by big capital) demands the same rights of audience and representation – e.g. in the case of climate change – as the overwhelming majority of scientists. Robert N. Proctor and Londa Schiebinger call this 'agnotology', when the denial of facts is systematically pursued (2008). Although we have to acknowledge that in the past scientific revolutions – as other revolutions as well – were always started by a minority (Kuhn 1982).
We arrive now at the issue of theory and praxis. Theories are the basis of Enlightenment and should explain the world, and by this give us guidance to improve it. So, there is a dialectical relationship between theory and praxis. "Thoughts are free." This is another basic element of democracy, but not if you organize yourself to propagate your – communist – ideas to attain power. In the case of Scientology this freedom is unlimited in the USA, therefore the USA stigmatise European countries, which prohibit Scientology, as 'undemocratic'.
The media and arts
The freedom of opinion and with it of media and arts is fundamental for a free society and democracy too. The media are even called the fourth pillar of a democratic society. The role of literature, movies, TV and arts within anti-communism has not been treated enough so far, and unfortunately will not be treated in this volume as well, although their impact is not be underestimated in an entertainment society.
Totalitarianism
Probably the most successful anti-communist strategy during the past decades is the notion of totalitarianism (Wikipedia 2013d). It means the identity of fascism and communism, i.e. that their form and content – one-party rule, authoritarian leadership (Der Führer), strong ideology, oppression of any freedom, concentration camps, lack of justice, collectivism – are identical (Széll 1992a). On the ideological front George Orwell with his books '1984' and 'Animal Farm' (Orwell 1945) contributed much to the spreading of the totalitarian thesis (Széll 1985). Also Aldous Huxley's 'Brave New World', already written in 1932, became a standard reading in this vein – with translations into nearly all languages and dozens of editions since (Huxley 1960). The book The Origins of Totalitarianism by the German-American philosopher Hannah Arendt from 1951 had the biggest impact on this debate (cf. also Friedrich, and Brzeziński 1956; Friedrich, Curtis, and Barber 1969). Friedrich Hayek introduced the notion of 'Totalism' to cover communism and fascism. However, if we look back into history, all pre-modern societies were totalitarian. The religious institutions and monarchic rules prevented all freedom of an individual. The notion of individual was even not existent.
In modern times a number of renegades from communist parties, Stéphane Courtois (2003, 2006a, b) and David Horowitz are two of the most prominent ones, became the strongest anti-communists. The critique of totalitarianism from the left argues mainly that there is a qualitative difference between really existing socialism and fascism: Really existing socialism imploded at the end by its own inner contradictions, and transformed itself peacefully into democratic societies (Schmeitzner 2007; Traverso 2001). However, this may not be fully true: Fascists regimes in Spain, Portugal and Greece transformed themselves into democracies in the 1970s. Whereas after the end of the Soviet Union Russia and most former Soviet Republics remain authoritarian states.
Results and discussion
To understand the differences of anti-communism in the different parts of the world,
and notably the Third World we have to go back to the 'deep structures'
of society, including culture and religion.
Conclusion
Anti-communism in the Korean context15
Since Germany's unification in 1990 and the end of Cold War in Europe certainly anti-communism still survives, but has changed and lost a lot of its impact. However, 'anti-communism' under the circumstances of the Cold War system is still one of the most important keywords to understand the background of the specific development of South Korean society (Gills 1996). The division of the Korean nation (1945/1948), the Korean War (1950–53) – which also was a civil war about competing ideological systems – and the specific historical experience of extreme ideological confrontation produced a relatively homogeneous ultra-rightist society in South Korea, where anti-communism was internalized by the huge majority of society as a 'pseudo-consensus'. In this extremely violent process almost all left-wing groups and their members were exterminated and those, who survived, and the bereaved were to be silenced. These historical collective traumata were massively suppressed until 2004. The traumata, which did not have the opportunity to be healed, might be the reason for the present uncompromising socio-political ideological conflict in South Korea, which has been called in recent time as 'South-South Conflict'.
Even though the anti-communist resentment has been weakening in the course of democratization, which was contested by the dualistic view of Cold War mentality (either 'we' or the 'enemy'), South Korea has been still ruled by 'war-politics' as named by Kim Dong-Choon. It means, even though the doctrine of rule of law, liberal democracy and constitutional rule are institutionalized, the principles of war or militarism have penetrated in all parts of society and the state, and have still been working as every-day affair even in the form of rule of law. The political measures taken by the Lee Myung-Bak administration (2008–2013) in relation to candle-light demonstrations, investigations of donations of some NGOs by the National Intelligence Service, the inspection of citizens by military secret service or, in general, the partly excessive application of the National Security Law are only several examples.
Especially during the military dictatorship, in the phase of state-led, condensed economic development, anti-communism served as an important power mechanism to discipline the citizens and mobilize them to achieve the developmental goals set by the state. Hyo-Je CHO, another South Korean sociologist, has described the specific character of South Korean society as an 'anti-communist regimented society' coined by the 'Statist Developmental Mobilization Regime'.
Linking up the three principles – 'anti-communism', 'authoritarian state' and 'economic growth' – played a key role in the understanding of South Korean society from the 1960s until the 1980s, and its consequences also marked the later period. On the one hand, anti-communism was an indispensable support for the dictatorship and created the absolute predominance of the state over civil society. On the other hand, in the context of the ideology of growth anti-communism guaranteed the absolute predominance of capital over labour. These structural imbalances ensured the reproduction of the existing political-economic set-up with a structural advantage for conservative or even ultra-right-wing groups.
In the course of democratization, the role of civil society has been reinforced and, especially under the government of late President Roh Mu-Hyun, many organizations even obtained the opportunity to participate in the policy process. However, the intensification of neo-liberal policies during the Roh administration and thereafter has even strengthened the predominance of capital over labour. Neo-liberalism has been a worldwide phenomenon for the last decades, but in Korea it could be backed by anti-communism in the context of national division, on-going Cold War system and war-like state (i.e. under the armistice).
The 'Hermit kingdom' tried to remain – like Japan – for centuries outside of the Western influence. The Japanese occupation since 1910 led to modernisation, Anti-Japanism and pro-communism. Korea liberated itself from Japanese occupation, under the leadership of Kim Il-Sung – not by the Soviet Union. Nevertheless the role of Confucianism in regard to anti-communism has still to be determined. Certainly the strongest anti-communist influence in South Korea came through the US occupation after 1945 and after the war between 1950 and 1953. Until today – as long-time for Germany – the US political system remains dominant. It is even more expressed through the military dictatorships until the end of the 1980s. And the Korean diaspora in the USA is not be neglected in this context. The result is a strongly divided country, as the free elections since more than 20 years show (cf. Shin 2005; Song, and Werning 2012; Széll 2010b, 2012). The role of Chaebols, although an issue in the last presidential election, is not to be diminished. There remain two trade union-federations, which are fiercely opposed. There is a weak civil society and lack of political culture (Lee 2007). Anti-North Koreanism is one of its products (cf. the article by Hyo Je Cho). On the other side we find an increasing anti-Americanism, to be seen around the Free Trade Agreement-negotiations.
Declarations
Competing interests
None.
Funding
Friedrich Ebert Stiftung.
Open AccessThis article is distributed under the terms of the Creative Commons Attribution 4.0 International License (http://creativecommons.org/licenses/by/4.0/), which permits unrestricted use, distribution, and reproduction in any medium, provided you give appropriate credit to the original author(s) and the source, provide a link to the Creative Commons license, and indicate if changes were made.
Authors' Affiliations
(1)
School of Cultural & Social Sciences, University of Osnabrueck, Osnabrueck, Germany